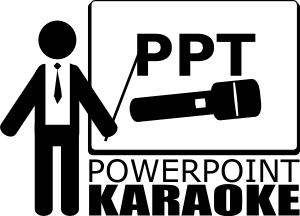 This work is licensed under a Creative Commons Attribution-Share Alike 2.0 Germany License.
Ein Publikum voller Leute, die Du nicht kennst. Eine blinkende, bunte Powerpoint-Präsentation, die Du nicht kennst. Zehn Minuten Redezeit. Das ist Powerpoint-Karaoke. Bist Du der Herausforderung gewachsen?
An audience full of people you don't know. A blinking, colorful Powerpoint presentation you don't know. Ten minutes to fill. This is Powerpoint Karaoke. Will you face the challenge? (English speakers welcome!)
You don't need to hold a presentation to come! Visitors are welcome!
Upcoming dates:
Previous dates: